K-9 Fitness, Conditioning & Weight Management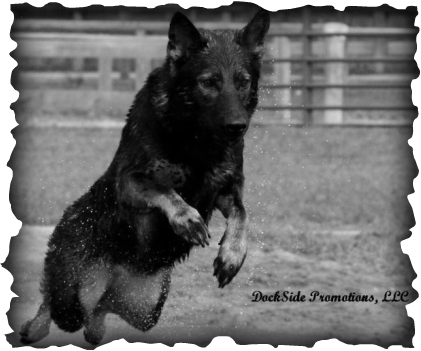 K-9 Fitness/Conditioning

Our main goal at Alpha K9 U is to help our K-9 companions live many long happy years through healthy lifestyles.
Strength and Endurance Conditioning
There has been a great increase in the numbers participating in dog sports over the last decade and our aim is to enable every canine athlete to reach their full potential enabling them to avoid common injuries. Cross training is as important for the canine athlete as it is for humans for improving endurance, strength and flexibility. Whether your dog is a working, hunting, sporting K-9 and/or family companion, dogs can utilize 'water work' for a comprehensive, individualized goals. Exercise in water is an excellent cross training activity to increase the overall fitness of your canine athlete while decreasing the risk of overuse injury by separating fitness training from skill training.
Fitness and Weight Management Program
Obesity is associated with shorter lifespan, diabetes, arthritis and diseases of the heart, liver and kidneys. Exercise is very important in many ways and is especially important in achieving and maintaining a healthy weight. Exercise burns calories, increases muscle mass, combats ill effects of aging such as arthritis and it even makes your dog happy and better behaved.
Our weight loss programs are designed to fit the dog's age, physical health, and amount of obesity. These factors are designed so that a dog can lose the right amount of weight in a healthy manner*.
INTERVAL TRAINING OPTION EXAMPLESHow we "Interval Train"
Throughout the workout, we mix in intervals of swimming, walking, jogging and/or running to help increase heart rate and burn. The length of workouts, swim time, play time and all other kinds of exercise depends on the dog's age, health, and stamina.
Treadmill Warm Up:
We take the time to acclimate your dog on the treadmill then we begin interval training. Beginning every workout by warming up this is important as it helps to prevent injuries.
We then remove your dog from the treadmill and add in some stretches, paying particular attention to stifle, elbow, shoulder and hips. Then return your dog to the treadmill for a fast walk to a slow jog.
Interval Training:
Now the high intensity exercise begins. We increase your dog's pace, this pace will depend upon the dogs comfort level and health condition, we do not increase past a comfort level or add any undue stress on the joints and bones, we build up your dog's program. Beginners are kept at a safe level until your dog builds their cardio level.
Cool Down:
Fast walk and add in some stretches.
- This routine should take just over half an hour and if performed three times a week should help burn the fat and build your dogs' physical condition -
Hydra-Conditioning
Swimming is a great cardiovascular exercise and offers a low impact way to increase strength and endurance. Our conditioning services are specifically developed for dogs that need more strenuous exercise, and/or for handlers who want to get their dog in better shape for competition, whether in the show ring, working arena and/or the sports arena, or to simply increase activity levels. All breeds of dogs can benefit and most enjoy the activity.
Each one of our swim programs are designed to meet your dog's specific fitness needs, ranging from our K9 Puppy Sessions which will teach your pup to relax and play in a pool atmosphere, as well as swim, to K9 Fitness Swim Sessions for owners who are seeking weight loss and/or no impact exercise for their dog, to K9 Assisted Swim Sessions for dogs - suffering from arthritis, soft tissue injuries, muscle atrophy, obesity, or pre - and post -surgery conditions.
Weight Loss
Obesity can greatly reduce the mobility of your dog; leading to problems with joints and muscles and aggravating the effects of old age and arthritis. The buoyancy and reduced dead weight that a pool provides enables your dog to get a low-impact, but effective workout; helping to strengthen muscle tone, improve mobility and increase fitness levels.
We will work with you to develop an exercise plan that both you and your dog can accomplish. Twice weekly water exercise sessions serve to jump start the process, because one minute of swimming is equal to 5 to 15 minutes of walking and thus serves to increase overall fitness, endurance and cardiopulmonary output.
Our Programs Combine
:
- Treadmill Time
- Pool Workouts
- Strength Training
- Groundwork
- Comprehensive Nutrition Plans
- It is important to work with your dog's veterinarian to develop an individualized program for safe and healthy weight loss -
*The right weight loss program for any dog will be very gradual. In dogs that are extremely obese, elderly, or who have existing medical conditions, it is vital that exercises begin slowly.
Appointments - You may request an appointment by email, phone or fax and/or by stopping by the front office during office hours. For best results, schedule appointments at least 24 hours in advance (don't wait until the last minute to schedule an appointment). You may also schedule recurring appointments. If you are unable to attend an appointment, please let us know. We require a cancellation notice of at least 24 hours in advance for most appointments. We appreciate your help in keeping our schedule running efficiently.Chief Executive Manager & K-9 Training Specialist
:

Keli.Andrea@AlphaK9U.com
- Please scroll to the bottom of this page to review a summary of our mandatory Wellness Policy -
Unparalleled in the industry, our number one goal is to provide our customers and their dogs the ultimate experience in canine care. We offer widespread care and training by qualified and experienced professionals. We have a proven track record, excellent reputation, and extensive dog sport and behavioral knowledge.